Early Detection + Early Intervention = Later Success
If you are concerned about your child's development, don't wait.  You know your child best.  Acting early on developmental areas of concerns will make a real difference for your child and you.  
The earlier intervention is provided, the more effective it will be. This is when Early Intervention (EI) can have a profound impact.  Research shows that the connections in a baby's brain are most adaptable during the first three years of life. These connections are the foundation for learning, behavior, and health.
The best place to start is to discuss your child's strengths and concerns with your child's pediatrician.  They may suggest that your child, under age 3, be evaluated for EI.
Once the Early Intervention evaluation determines a need, the family will assist the child to gain skills, work on areas of need and learn at their own rate with the support of Early Intervention Specialists. Early Intervention Specialists include: Speech-Language Pathologists, Physical therapists, Occupational Therapists, Developmental Specialists, Nurses, Social workers, Child-life specialists, and other professionals.  They work with the family and child on areas of concern through play.  Play is how all children learn about the world around them and how they fit into that world.  It helps them develop learning skills, social skills, and promotes creativity, problem-solving, and imagination.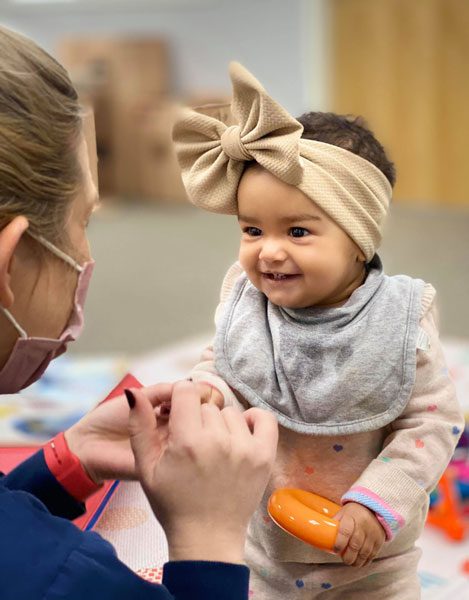 Early Intervention services are provided to encourage and assist the child and family to work with their strengths when learning new skills.  Using the child's own toys and surroundings will encourage them in reaching their developmental milestones.
There are over 50 Early Intervention programs in Massachusetts, each with specific catchment areas. The Central Directory for Early Intervention is at : www.MassFamilyTIES.org
The Professional Center for Child Development (PCCD) is a provider for families living in the Andover, North Andover, Lawrence & Methuen areas.  Call PCCD for more information at 978-475-3806 or submit a referral. 
~  Kim Briggs M.Ed. CCC-SLP
PCCD Early Intervention, Speech-Language Pathologist.