Early Intervention Services
Our Early Intervention Program is an integrated developmental program offering evaluation and therapeutic services for children under the age of three. The program serves children who are not reaching age-appropriate milestones, or have a diagnosis that may result in a developmental delay or are at risk for developmental delays due to biological or environmental factors. We have been serving children and families for over 48 years, and there are no direct costs to families for services. Infants and toddlers develop and learn through meaningful everyday experiences and interactions in familiar places. EI services work best when families and caregivers participate in activities that reflect the child's and family's priorities, culture and learning style. Services are offered in homes, in early childhood centers, playgroups and within the community. We have bilingual and bicultural staff to support the children and families within our community.
We service children and families in Andover, North Andover, Methuen, and Lawrence.
Candidates for Early Intervention Services
Children that have not yet met age-appropriate milestones
Children diagnosed with certain conditions
Children with medical or social histories that may put them at risk for developmental delays
of a child's critical brain development happens before age 5.
of staff have been with PCD 10+ years.
Children who live below poverty are already
18 months
behind what is average for their age group by the age of 4.
Compared to other EI programs across the State, Children enrolled in PCD's EI program are
3x more
likely to meet their developmental goals before the age 3.
PCCD serves a remarkable
95%
of all Greater Lawrence children who are referred to Early Intervention services.

Developmental screening and evaluations

Home visiting services by developmental specialists, occupational therapists, physical therapists, speech language pathologists, music therapists, social workers, mental health clinicians, nurses and a registered nutritionist. 

Service coordination including transition support to services after age three

Education and support to parents, caregivers, and childcare providers

Referrals to additional specialty services

Clinical Coordination with healthcare providers
Workshops, Groups and Classes

Training and education for childcare providers and families

Toddler and parent/child groups

Drop-off Early Intervention Toddler Playgroups

Hippotherapy

Specialized Feeding Groups

Infant Massage Classes

Music Therapy
Our highly specialized, experienced and caring staff include:
Developmental and Special Educators
Speech Language Pathologists
Physical and Occupational Therapists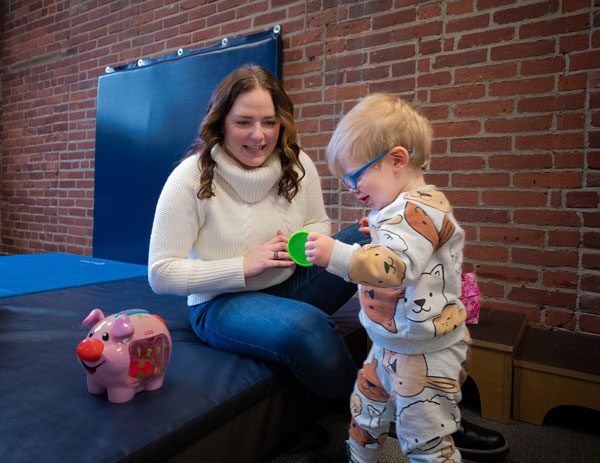 Children can be referred to Early Intervention by parents, pediatricians, caregivers, teachers, friends or other professionals. Families may also contact our program directly. An evaluation with our team will be scheduled to determine a child's eligibility. Using a holistic family-centered approach, our team will develop an Individualized Family Service Plan (IFSP) based on the needs of your child. The process is collaborative, individualized and reflects the child's and families' priorities, learning styles, culture, and community.
Early Intervention Program Director
Regional Consultation Program (RCP)
We also offer a support service to qualifying families through our Regional Consultation Program. This program offers services such as assistance in identifying helpful tools and resources, finding other appropriate programs, acquiring medical and assistive equipment, and providing referral information.
Education and therapeutic care for children of all abilities.